About the TV-Show
I Love Lucy is an American television sitcom that originally aired on CBS from October 15, 1951, to May 6, 1957, with a total of 180 half-hour episodes spanning six seasons. The show starred Lucille Ball,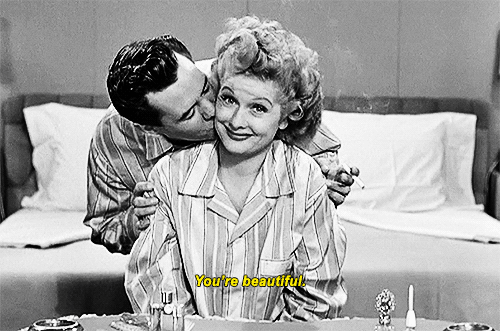 her then real-life husband Desi Arnaz, Vivian Vance, and William Frawley. It followed the life of Lucy Ricardo (Ball), a young middle-class housewife in New York City, who either concocted plans with her best friends Ethel and Fred Mertz (Vance and Frawley) to appear alongside her bandleader husband Ricky Ricardo (Arnaz) in his nightclub, or tried numerous schemes to mingle with, or be a part of show business.
After the series ended in 1957, a modified version continued for three more seasons with 13 one-hour specials; it ran from 1957 to 1960. It was first known as The Lucille Ball-Desi Arnaz Show and later in reruns as The Lucy-Desi Comedy Hour.I Love Lucy became the most-watched show in the United States in four of its six seasons, and it was the first to end its run at the top of the Nielsen ratings (an accomplishment later matched only by The Andy Griffith Show in 1968 and Seinfeld in 1998).
MY THOUGHTS 
Another vintage Tv Show I am putting on my Favorites List! This is such a classic and I haven't seen it, being that I'm from Europe. So now Thanks to technology I could watch it and It was amazing. I can totally see why it was (and still is) so popular. It's easy to watch, funny, and has such a lovable cast. My concern with any old 'classic" is …How racist and sexist it really is? And I can say it wasn't that bad(just by watching the first season, can't comment on the others yet). Yes, it has a big emphasis on the "women place" at home and "men's place" at the workplace. But taking into the account the year and what was "expected" from people and families in particular at that time,I can't really criticize. So overall I'm very happy with this TV show, it's perfect for casual watching when you cook or clean. (And my boyfriend's parrots love the opening)
FOLLOW ME
Pinterest / Influenster / Goodreads / Instagram/Bookstagram 
Tell me in the comments, Have you seen it?Did you like it?
That's it from me 
Till next time